Harriet Irving Botanical Gardens (HIBG)
Dernière version Publié par Acadia University le Feb 15, 2016 Acadia University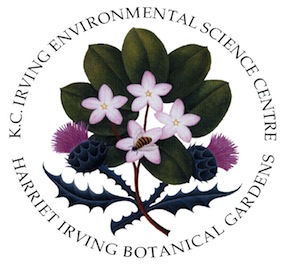 The main collection of the Gardens is laid out in nine native habitats of the Acadian Forest Region. All of the plants found in these habitats are native species to the region. Other features of the Gardens include: Medicinal and Food Garden, Conservatory, Walled Garden and Experimental Garden.
Enregistrements de données
Les données de cette ressource occurrence ont été publiées sous forme d'une Archive Darwin Core (Darwin Core Archive ou DwC-A), le format standard pour partager des données de biodiversité en tant qu'ensemble d'un ou plusieurs tableurs de données. Le tableur de données du cœur de standard (core) contient 9,349 enregistrements.
Cet IPT archive les données et sert donc de dépôt de données. Les données et métadonnées des ressources sont disponibles au téléchargement dans la section téléchargements. Le tableau des versions liste les autres versions de chaque ressource rendues disponibles de façon publique et permet de tracer les modifications apportées à la ressource au fil du temps.
Téléchargements
Téléchargez la dernière version de la ressource en tant qu'Archive Darwin Core (DwC-A), ou les métadonnées de la ressource au format EML ou RTF :
| | |
| --- | --- |
| Données sous forme de fichier DwC-A (zip) | télécharger 9,349 enregistrements dans Anglais (469 KB) - Fréquence de mise à jour: inconnue |
| Métadonnées sous forme de fichier EML | télécharger dans Anglais (11 KB) |
| Métadonnées sous forme de fichier RTF | télécharger dans Anglais (10 KB) |
Versions
Le tableau ci-dessous n'affiche que les versions publiées de la ressource accessibles publiquement.
Comment citer
Les chercheurs doivent citer cette ressource comme suit:
Harriet Irving Botanical Gardens (HIBG) at Acadia University. http://dx.doi.org/10.5886/5shhh7wb (accessed on [date]).
Droits
Les chercheurs doivent respecter la déclaration de droits suivante:
L'éditeur et détenteur des droits de cette ressource est Acadia University. To the extent possible under law, the publisher has waived all rights to these data and has dedicated them to the Public Domain (CC0 1.0). Users may copy, modify, distribute and use the work, including for commercial purposes, without restriction.
Mots-clé
Harriet Irving Botanical Gardens; Acadia University; Canada; Nova Scotia; New Brunswick; Prince Edward Island; United States; Maine; specimens; Canadensys; Occurrence
Données externes
Les données de la ressource sont disponibles dans d'autres formats
Contacts
Personne ayant créé cette ressource:
Personne pouvant répondre aux questions sur la ressource:
Personne ayant renseigné les métadonnées:
Autres personnes associées à la ressource:
Couverture géographique
Primarily the Flora of the Acadian Forest Region.
| | |
| --- | --- |
| Enveloppe géographique | Sud Ouest [43.11, -71], Nord Est [48.13, -59.52] |
Couverture taxonomique
The dataset includes all vascular plants (seeded and non-seeded) planted within the Harriet Irving Botanical Gardens.
Couverture temporelle
| | |
| --- | --- |
| Epoque de formation | 1999-present (Planted during the construction of the KC Irving Environmental Science Centre) |
Données sur le projet
Pas de description disponible
| | |
| --- | --- |
| Titre | Harriet Irving Botanical Gardens |
| Financement | Canadian Foundation for Innovation |
| Description du domaine d'étude / de recherche | Database and Geolocate living specimens in the Harriet Irving Botanical Gardens Collect representative herbarium specimens for the E. C. Smith Herbarium |
Les personnes impliquées dans le projet:
Personne de Contact
Peter Romkey
Méthodes d'échantillonnage
The data supplied by the HIBG contain mutliple specimens with the same accession number. As the data are loaded, if the accession number already existed, the UTM coordinates are appended to that record's UTM coordinates. Thus, more than one coordinate may exist for a specimen because multiple clones of the specimen were planted throughout the gardens.
| | |
| --- | --- |
| Etendue de l'étude | Inventory of plants from the Harriet Irving Botanical Gardens with a focus on plants of the Acadian Forest Region. |
| Contrôle qualité | n/a |
Description des étapes de la méthode:
n/a
Données de collection
| | |
| --- | --- |
| Nom de la collection | Harriet Irving Botanical Gardens |
| Identifiant de collection | HIBG |
| Identifiant de la collection parente | ACAD |
| | |
| --- | --- |
| Méthode de conservation des spécimens | No treatment |
Métadonnées additionnelles