University of British Columbia Herbarium (UBC) - Fungi Collection
Dernière version Publié par University of British Columbia le Nov 29, 2023 University of British Columbia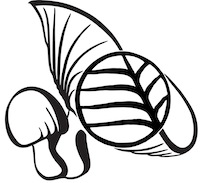 This dataset includes all digitized fungi in the UBC collection, encompassing approximately 95% of the collection.
Enregistrements de données
Les données de cette ressource occurrence ont été publiées sous forme d'une Archive Darwin Core (Darwin Core Archive ou DwC-A), le format standard pour partager des données de biodiversité en tant qu'ensemble d'un ou plusieurs tableurs de données. Le tableur de données du cœur de standard (core) contient 33,150 enregistrements.
Cet IPT archive les données et sert donc de dépôt de données. Les données et métadonnées des ressources sont disponibles au téléchargement dans la section téléchargements. Le tableau des versions liste les autres versions de chaque ressource rendues disponibles de façon publique et permet de tracer les modifications apportées à la ressource au fil du temps.
Téléchargements
Téléchargez la dernière version de la ressource en tant qu'Archive Darwin Core (DwC-A), ou les métadonnées de la ressource au format EML ou RTF :
| | |
| --- | --- |
| Données sous forme de fichier DwC-A (zip) | télécharger 33,150 enregistrements dans Anglais (5 MB) - Fréquence de mise à jour: inconnue |
| Métadonnées sous forme de fichier EML | télécharger dans Anglais (13 KB) |
| Métadonnées sous forme de fichier RTF | télécharger dans Anglais (9 KB) |
Versions
Le tableau ci-dessous n'affiche que les versions publiées de la ressource accessibles publiquement.
Comment citer
Les chercheurs doivent citer cette ressource comme suit:
University of British Columbia Herbarium (UBC) - Fungi Collection from University of British Columbia. http://dx.doi.org/10.5886/h4px7g4b (accessed on [date])
Droits
Les chercheurs doivent respecter la déclaration de droits suivante:
L'éditeur et détenteur des droits de cette ressource est University of British Columbia. To the extent possible under law, the publisher has waived all rights to these data and has dedicated them to the Public Domain (CC0 1.0). Users may copy, modify, distribute and use the work, including for commercial purposes, without restriction.
Mots-clé
UBC; University of British Columbia Herbarium; Beaty Biodiversity Museum; Canadensys; Canada; British Columbia; collection; herbarium; specimens; fungi; Occurrence; Specimen
Données externes
Les données de la ressource sont disponibles dans d'autres formats
Contacts
Personne ayant créé cette ressource:
Personne pouvant répondre aux questions sur la ressource:
Personne ayant renseigné les métadonnées:
Autres personnes associées à la ressource:
Couverture géographique
The UBC Herbarium fungi collection is worldwide in scope, with emphasis on British Columbia & North America.
| | |
| --- | --- |
| Enveloppe géographique | Sud Ouest [-90, -180], Nord Est [90, 180] |
Couverture taxonomique
Fungi represent a separate Kingdom from plants and contain the basidiomycetes (including mushrooms, shelf fungi), ascomycetes (morels, truffles, molds, yeasts), and teliomycetes (smuts, rusts), as well as slime molds.
| | |
| --- | --- |
| Kingdom | Fungi, Protozoa |
| Phylum | Basidiomycota, Ascomycota, Amoebozoa (Slime molds) |
Couverture temporelle
| | |
| --- | --- |
| Epoque de formation | early 1900s-present |
Données de collection
| | |
| --- | --- |
| Nom de la collection | University of British Columbia Herbarium (UBC) - Fungi Collection |
| Identifiant de collection | UBC |
| Identifiant de la collection parente | UBC |
| | |
| --- | --- |
| Méthode de conservation des spécimens | Dried |
Métadonnées additionnelles