Royal BC Museum - Herbarium (V)
Latest version published by Royal British Columbia Museum on Apr 15, 2020 Royal British Columbia Museum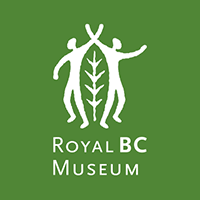 The Royal BC Museum herbarium (V) houses 218,000 vascular plants specimens, most of which (>90%) were collected within the limits of the province of British Columbia. Specimens from adjacent jurisdictions such as the Yukon, Alberta, Washington and Alaska make up a smaller part of our collection (<10%). Our earliest specimens were collected in the 1890's and during the first part of the 20th century by James R. Anderson and John Macoun. A recent focus of our collections is on the flora of alpine habitats in northern BC.
Data Records
The data in this occurrence resource has been published as a Darwin Core Archive (DwC-A), which is a standardized format for sharing biodiversity data as a set of one or more data tables. The core data table contains 218,884 records.
This IPT archives the data and thus serves as the data repository. The data and resource metadata are available for download in the downloads section. The versions table lists other versions of the resource that have been made publicly available and allows tracking changes made to the resource over time.
Downloads
Download the latest version of this resource data as a Darwin Core Archive (DwC-A) or the resource metadata as EML or RTF:
| | |
| --- | --- |
| Data as a DwC-A file | download 218,884 records in English (13 MB) - Update frequency: unknown |
| Metadata as an EML file | download in English (10 KB) |
| Metadata as an RTF file | download in English (8 KB) |
Versions
The table below shows only published versions of the resource that are publicly accessible.
How to cite
Researchers should cite this work as follows:
Wheeler E (2014): Royal BC Museum - Herbarium (V). v2.1. Royal British Columbia Museum. Dataset/Occurrence. https://doi.org/10.5886/yxupar
Keywords
British Columbia; provincial repository; herbarium; vascular plants; Occurrence; Specimen
External data
The resource data is also available in other formats
Contacts
Who created the resource:
Who can answer questions about the resource:
Who filled in the metadata:
Who else was associated with the resource:
Geographic Coverage
British Columbia, Canada
| | |
| --- | --- |
| Bounding Coordinates | South West [48, -139.053], North East [59.995, -120] |
Taxonomic Coverage
A large majority (>90%) of our specimens are of native or naturalized vascular plant taxa in British Columbia. We also have a small collection of bryophytes and lichens. Among vascular plants we have good collections of most angiosperm, gymnosperm and fern (and allies) taxa and extensive collections of some focal angiosperm families such as Asteraceae, Cyperaceae, Poaceae and Salicaceae.
Temporal Coverage
| | |
| --- | --- |
| Formation Period | 1890 - present |
Collection Data
| | |
| --- | --- |
| Collection Name | Royal British Columbia Museum Herbarium |
| Collection Identifier | http://royalbcmuseum.bc.ca/nh-collections/botany-plants/ |
| Parent Collection Identifier | Royal British Columbia Museum |
| | |
| --- | --- |
| Specimen preservation methods | Dried and pressed |
| | |
| --- | --- |
| Curatorial Units | Count 215,000 +/- 2,000 Herbarium sheets, moss packets, lichen packets, cones |